WELCOME TO DEYOGA ROOM
Deyoga Room (located inside The Boxing Rink) provides a warm, inviting, non-judgmental, intimate setting to practice yoga.  Deyoga Room was built to specialize in "Private Practice"  – not only one on one, but for our athletic team training programs affiliated with The Boxing Rink™ – as well as our Deyoga Stretch for PD, part of our Rock Steady Boxing Program for Parkinson's Disease.  We also offer a variety classes and workshops available to the public for all levels! Please pre-register ahead of time to reserve your space!
---
Click here for class schedules, registering and purchasing classes
FUSION
A high intensity work out program, combining the best of The Boxing Rink and Deyoga Room, providing a mixture of cardio boxing, HIIT circuit training, invigorating, strengthening and restorative yoga to fuel your body and mind. Fusion is designed to provide a well rounded fitness, health and wellness program to create and maintain a better YOU!
Click here for class schedules, registering and purchasing classes
---
CLASS DESCRIPTIONS:
ACCELERATE (CARDIO BOXING):
60 minutes of non-stop cardio boxing action! Burn up to 1,000 calories! A fast paced, high energy boxing class focusing on quick and explosive movements to get you sweating and burning calories – FAST!! This class will increase your stamina and endurance, as well as tone and shape your muscles. This class will FORCE you out of your comfort zone and make you WORK. Hand wraps, boxing gloves and exercise mat are required, a towel is recommended. *Class takes place up front in The Boxing Rink!*
MOMENTUM (HIIT)
This vigorous, high energy, fast paced, non-stop HIIT (high intensity interval training) class will kick your fat burning into high gear! Effective and efficient without wasting a minute of your time! Your cardio endurance and strength will be put to the test, and all those burned calories will be nothing but puddles on the floor. Mat required and towel is recommended. *Class takes place up front in The Boxing Rink!*
VELOCITY (VINYASA/SLOW BURN BLEND):
For those new to yoga, this class is teacher guided, taking the fear out of not knowing where to go. For experienced yogi's this is a true fast paced class with lots of heat and movement, combined with longer holding, slow burn postures, bringing you the best of both yoga worlds! The room is heated to 90+ degrees. Mat is required, towel recommended.
SYNERGY (YOGA SCULPT):
An intensive calisthenic style class, with yoga opening and closing postures – with a high energy workout in between for full body toning and strengthening. Room is heated to 90+ degrees. Mat required, towel recommended.
INERTIA (SHORT FORM ASHTANGA)
This method of yoga follows a series of postures while syncing the breath – a process that produces intense internal heat, detoxifying the muscles and organs.  The result is improved circulation, a light and strong body, and a calm mind.  Ashtanga series classes are a great way for beginners to learn the postures of yoga to prepare for Vinyasa Flow.  Room is moderately heated to 80-85 degrees.  Mat required and towel is recommended.
GRAVITY (SLOW BURN/YIN):
Gravity is designed to be a restorative style class, giving you the recovery you need in the middle of our Fusion Program. Beginning with cultivating the breath, yoga warm ups and body openers, moving into a smooth flow of "slow burn" style postures, mixing in longer holding Yin postures throughout, making this a "Yin-in-motion" style class – allowing you to move deep into your connective tissues and aid in myofascial release, focusing on opening the hips, sacrum and spine. Deep, longer flowing breath allows you to relax into the postures, softening the muscles. The room is heated to aid in relaxation and detoxification. Mat required and towel is recommended.
PRIVATE PRACTICE:
Have your own private heated oasis for one hour! We will set the temperature to your liking, you bring your music and connect to our system, and you can flow, meditate, lay in shavasana – wherever your practice leads you – for 60 glorious minutes.  It's all yours.  We can provide you with one of our fantastic instructors to guide you if you like, just let us know.  Please inquire about pricing and availability.
DEYOGA ATHLETES:
This class is reserved for full team training – inquire about pricing and scheduling. Keeping in line with The Boxing Rink's purpose, Deyoga Athletes is a slower flow, focusing on sport specific stretching and alignment, while still keeping the pace intense to challenge even the most conditioned athletes.  The body needs balance and recovery – and often times we simply don't take the time to realign not only our bodies but our minds as well. Mat is required, towel recommended.
DEYOGA STRETCH FOR PD:
This class was developed specifically for those with Parkinson's Disease to enhance the Rock Steady Boxing Program at The Boxing Rink. Research proves that regular stretching and certain postures can help visibly reduce tremors and improve steadiness of gait, increase motor function, mobility, balance, strength, improve mood, sleep and so much more.  More information about Rock Steady Boxing Troy at The Boxing Rink is available here: http://theboxingrink.com/rock-steady-boxing/
SENIOR FOCUS YOGA:
Chair based yoga for senior citizens as part of our Senior Focus program (please contact us for membership options) to help aid in increased balance and focus, mobility and flexibility. Learn more about Senior Focus Yoga at http://theboxingrink.com/senior-focus-program/
Click here for class schedules, registering and purchasing classes
'Beauty from the Inside Out'
by Jeanette Frost // from The Metropolitan
While there have been many studies pointing to all the wonders and health benefits of yoga (google it), I prefer giving my personal account, because it's so meaningful to me. Yoga has brought peace and calm to my life, while greatly reducing stress and tension. Yoga has also eliminated my back pain, which once plagued me from complications through Scoliosis (a curved spine). I've also built incredible strength, flexibility and muscle tone, which I've never before experienced. READ MORE
THE BENEFITS OF YOGA
Yoga brings together physical and mental disciplines to achieve peacefulness of body and mind, helping to manage stress and anxiety.  Yoga improves strength, balance, flexibility, mental control, improving body awareness and enhancing mental clarity.  The basis of yoga is deep breathing.  In fact, the breath is more important than the posture.  Deep nose breathing keeps you calm and focused, maintains mental balance, and allows you to work at a higher level of physical proficiency.  When people are calm, they are stronger.  They perform better.   Beyond that, it strengthens your immune system, helps you sleep better, improves your concentration, eases pain and releases toxins.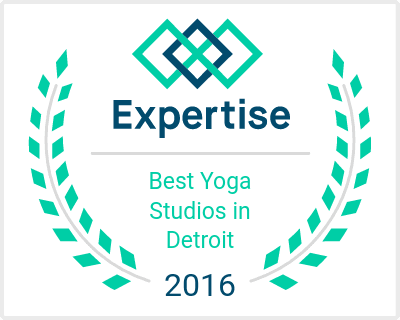 CONTACT US
(248) 817-5243

---
---
Deyoga Room, a part of The Boxing Rink™, is the "yoga baby" Barbara Deyo. Barbara found yoga in 2003 at CFY in Birmingham and fell in love with the practice. Teaching wasn't on her radar, but somehow it found her – in 2016 she completed her teacher training with Bryan Kest, and began sharing her love of yoga to others, leading by example in her "guided" classes. Barbara is a health, wellness, and beauty writer, and owner of Deyo for face and body in Birmingham. She he is an internationally acclaimed makeup artist, eyebrow shaping expert, microblading technician, airbrush tan specialist. Her work has been published worldwide. She has been named Best of the Best by Allure, Hour and Brides Magazines, WDIV and CBS. For more about Barbara, visit http://deyostudio.com/our-team/